Efecte Edge for ITSM has received the PinkVERIFYTM certification from Pink Elephant. Having already obtained the SERVIEW CERTIFIEDTOOL certificate in 2017, Edge for ITSM has now passed the assessment process of two of the most trusted, internationally recognized and independent organizations in the industry.
"Congratulations Efecte for achieving PinkVERIFYTM certification with Efecte Edge for ITSM!" said David Ratcliffe, President, Pink Elephant. "It's great to see Efecte's commitment to ITSM best practices. Customers can now have peace of mind that new implementations of Edge for ITSM will be compatible with the industry best practices for IT Service Management."
By combining this certification with the launch of our new baseline, any company will be able to implement ITIL standardized, independently certified software, in a matter of days. This will allow for the seamless integration of an ITSM SaaS, by any organization.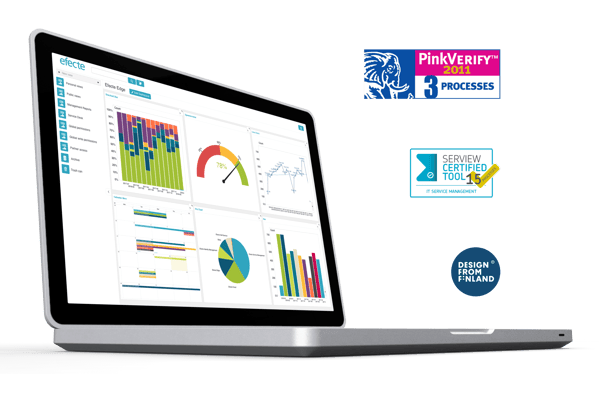 With the Edge for ITSM Baseline, we have included the following features and certifications to achieve the desired benefits of faster implementation, cost effectiveness and proven abilities.
Visual reports clearly show any information relevant to the user.
Predefined attributes including adjustable dashboards, roles and permissions.
Powerful workflows helping to automate and simplify sending responses, filtering and reassigning tickets.
Fully customizable, allowing Edge for ITSM to continually grow and adapt to your ever-changing business needs.
Independent certifications by PinkVERIFYTM and CERTIFIEDTOOL from Pink Elephant and SERVIEW.
To see how quickly and easily the new Efecte Edge for ITSM Baseline can process an incident and more about the key features, attributes and workflows please see the video below.
You can also view a full video demonstration of the Edge for ITSM Baseline with an example of reporting a problem to the IT service desk.
If you wish to receive more information or demo, do not hesitate to contact us.
PinkVERIFYTM is an internationally-recognized IT Service Management (ITSM) tool suite assessment that objectively assesses a software tool's enabling features against ITIL terminology, functionality, integration and workflow requirements. This elite certification is held in the highest regard among the ITSM community as a beacon of quality and trust, and is commonly referred to as the ITSM toolset "Stamp of Approval".
PinkVERIFY™ is a trademark of Pink Elephant Inc.