Efecte and Applixure Integration Simplifies and automates IT Interactions
Automatically integrate computer and application data collected by Applixure with the data stored in Efecte, the European alternative for IT Service Management. By combining Efecte and Applixure, your IT department and IT service providers can automatically collect and link a wide range of information surrounding the devices and applications maintained within Efecte's CMDB.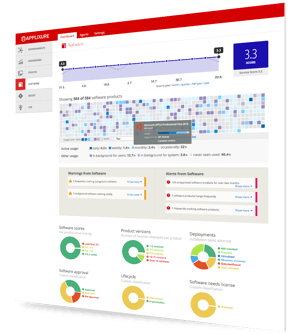 Improved insights and simplifying ineractions
Most IT departments are plagued with a lack of information when reacting to an incident or having employees deploy a security patch. Often the service desk personnel who is responsible for handling this task must ask a range of questions to collect all of the needed information surrounding the problematic application or device. This integration will help to dramatically improve companies' insights into their device and application data, simplifying any interaction.
Fully integrated
The Efecte and Applixure integration is now available to all of Efecte's customers and is a near plug-and-play integration designed, built, deployed, and maintained by Efecte Integration Service (EIS).
Applixure cloud solutions are now available from Efecte.
For more information, please fill out the form and we will get back to you!