Chain of kiosks increased efficiency and transparency of reporting with a new service management system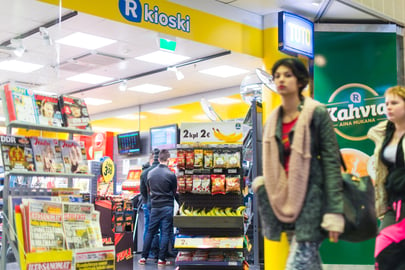 R-kioski Oy is a profitable chain of kiosks, run by independent shopkeepers, offering its clients a versatile range of entertainment, excitement and pleasure, and essential everyday products and services – quickly and conveniently from early in the morning to late into the night. R-kioski is part of the Reitan Convenience company, which is owned by the Reitan Group, and has nationwide coverage, with approx. 560 stores. R-kioski's brand awareness rating is 98%.
Reitan Convenience consists of R-kioski in Finland, Narvesen in Norway and Latvia, Pressbyrån in Sweden, 7-Eleven and Shell/7-Eleven in Norway, Sweden and Denmark, R-kiosk in Estonia, and Lietuvos Spauda in Lithuania. Reitan Convenience is a market leader in every country where it operates. The Reitan Convenience had a turnover of 1.63 billion euros in 2017 and 2 300 shops.
Customer Needs
In 2016, the case management system used by R-kioski's service center had reached the end of its lifecycle, which is why the company set out to seek a new, more modern solution. The service center is tasked with assisting the kiosks in any problem situation, regardless of whether it is related to equipment and applications, or the chain's operating principles and products. The company was seeking a new system with improved reporting properties and problem analysis functions, capable of reporting, for example, service levels between departments. The company wanted a system capable of directly receiving all tickets regardless of the channel via which they were sent. One of the goals was also to move to electronic communications.
Solution: Efecte Business Service Management
R-kioski chose the Efecte Business Service Management solution with Service Management Tool as its service center's case management system, because it could be fully tailored to its needs. The system provides for effective production of different types of reports, such as a weekly SLA report on what kind of tickets have been received and how much time was required to resolve them. The system, operating as a cloud-based service, is used for entering and managing tickets, including communication with both the kiosks and potential third parties. The system always sends a feedback query when a ticket has been resolved. Thanks to the Efecte's solution, R-kioski has been able to make its time management and ticket management increasingly efficient within a short period of time.
"Already when watching the demos, Efecte's presentation had a 'wow effect' on me. The system is pleasant on the eye and easy to adopt into use. We were provided with a comprehensive and flexible system that can be easily expanded, at a very competitive price too." Lauri Paatelainen, System Specialist, R-kioski Oy
"We went through a few alternatives, and the solution offered by Efecte was among the most versatile, if not even the best in this respect. We already saw in the demonstration phase that the system has good reporting properties," says Lauri Paatelainen, System Specialist at R-kioski, who serves as the Efecte system administrator.
The service center is contacted some 1,800 times a week, in 91% of the cases by telephone. One of the goals was to have a larger share of these messages sent by electronic means. The system has already made the processing of requests more efficient, since every party involved can be contacted directly from the system. The time required for work performed between contacts has diminished considerably. In addition, the analysis of the tickets has made it possible to reduce the number of contacts in general.
"The system now enables us to see the workload of each person working in the service center. We can also measure the response time, which our former system did not allow. Work has become more efficient, and all tasks can be clearly arranged in a work queue within the system", says Merja Kettunen, service center supervisor.
By using the Efecte Service Management system, it is now easier to establish an overall picture of the service center's work status. The working time required for reporting has been reduced significantly, currently requiring no more than a few minutes.
"It has surprised me how quick it is to make adjustments in the system," Lauri Paatelainen commends.
"The new system has been positively welcomed by everyone, and we have not met any change resistance. The benefits provided by the system have been evident to everyone." Merja Kettunen, Service center supervisor, R-kioski Oy
Customer benefits
The time required for processing tickets has reduced significantly
Communication with various parties is easier when it can be conducted via the system
The feedback queries are made automatically, which enables operations to be developed
Reporting is comprehensive and easy
It is easy to establish an overall picture of the service center's work status
Clear and easy-to-use solution