More agility and satisfaction through a central ESM platform for employees and customers

With 70 IT system houses in Germany, Austria and Switzerland, IT trading companies in 14 European countries and over 11,000 employees, Bechtle AG is one of the most successful international IT service providers. Bechtle IT system house Hamburg was founded in 2002, counts 435 employees and is firmly rooted in the north of Germany. In addition to the classic hardware business, the service provider's areas of expertise also include the provision of managed services and related support. Via its Competence Centre Enterprise Service Management (ESM), Bechtle Hamburg supports all IT system houses of the Bechtle Group in the planning and implementation of digitization projects.
With the introduction of a new ITSM tool Bechtle Hamburg intended to further expand its expertise in the ESM sector and to support customers outside the traditional IT sector in the modernization of process landscapes and digital transformation. Furthermore, Bechtle Hamburg planned the introduction of a service portal through which Bechtle customers can obtain products and services from various manufacturers. There was also an increased demand for service desk solutions, which Bechtle Hamburg is to operate on behalf of customers.
After a comprehensive comparison of providers, the IT system house Hamburg team decided in favor of the cloud-based and scalable ESM platform from Efecte, which can also be used as a separate tool for designing digital service processes.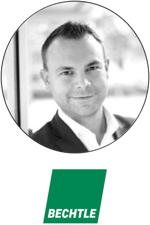 "With its cloud solution, Efecte can map a wide range of different service processes, can be adapted without programming effort and rolled out within a very short time. This combination fits our requirements perfectly and convinced us right away," says Tobias Stender, Head of the ESM Competence Centre, Bechtle IT System House Hamburg. "Another plus for us was the intuitive user interface, which is easy to use for both our team and our customers' employees. An advantage that also helps us to offer our customers new services and provide new services as quickly as possible".
Challenges
The greatest challenge of the IT project was to connect the solution for all decentralized units of Bechtle Hamburg and to carry out the respective dedicated automation in the central ESM platform of Efecte. In addition, processes had to be created with which Bechtle Hamburg could make the Efecte solution available to its customers as a hosting offer. The central platform was also to be installed as quickly as possible and without interfering with sensitive everyday operations.
Solution: a central platform for customers and employees
The introduction of Efecte Service Management at Bechtle IT system house Hamburg started in February 2019 with a requirements workshop. A subsequent pilot installation enabled the service provider to test the
solution in detail under everyday conditions. Due to the positive feedback from users and customers, only a few adjustments were necessary and the new solution was released for productive operation after just under two months. As a first sub-project, a customer service center (CSC) was set up with a realized shared service desk solution, which holistically maps different customer situations on a central platform.
The result: improved order processing and accelerated user support
Customizable self-service portals enable customers to purchase products, services and support online with just a few clicks. This accelerates the procurement process on the customer side and supports the IT system house in providing services. In the 1st level area, the system house can already automate many routine tasks. This has led to an accelerated clarification of incidents - both in-house and on the customer side. The average running time of a ticket has been significantly reduced. Thanks to an intelligent chat bot, questions that arise are either answered immediately, answers are offered via a self-service portal or the questions are forwarded to specialist IT staff. Efecte Service Management thus offers significant relief for the IT service desk, creates scope for the processing of complex problems and increases customer satisfaction. The IT team at Bechtle Hamburg can also identify frequently occurring problems and possible sources of error more quickly and receive reports on service quality and all relevant IT key figures at the touch of a button.The service provider can thus not only work much more efficiently, but can also continuously monitor compliance with agreed service level agreements (SLAs). With Efecte's Service Management, the Bechtle Hamburg is able to adapt its
processes independently at any time and without programming effort. This helps the system house to be more agile.
In order to be able to effectively serve the increasing number of requests, the Bechtle Hamburg team has also created the conditions to actively market the Efecte platform as a hosting offering. Customers benefit from
lower total cost of ownership (TCO), as they do not have to build their own support infrastructure, but only pay for services that they actually use.
What's next? Use of Efecte for all standard processes
Bechtle Hamburg intends to use the Enterprise Service Management solution from Efecte to centrally provide, control and evaluate additional standard processes in the future. In the next step, the system house plans to map the areas of purchasing, fleet and personnel management as well as business trips and training with Efecte. Regularly recurring processes, such as on-boarding and off-boarding of employees, are to be largely automated. Here, too, the goals are efficiency gains and a continuous improvement in service quality and user experience.
Quick take of the benefits of the project:
| Central ESM platform facilitates service delivery and supports customer support
| Faster resolution of support requests and improved service quality
| More process reliability, increased transparency and greater agility