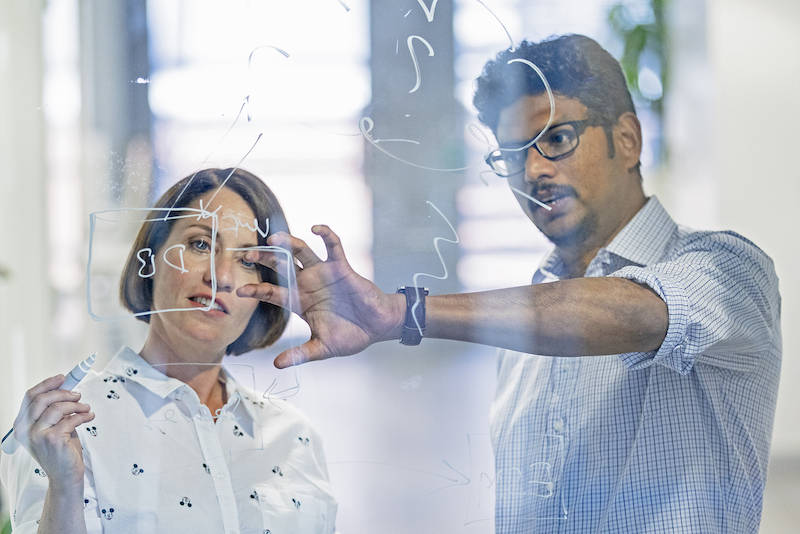 If you, your team or your organization wants to be agile, you have to create an environment to promote the change. This includes understanding the values and principles of agile; but also allowing the methodology to work. Agile often sounds like a framework, but it is a mindset. As a manager, you must trust your greatest resource, your people, and letting them work with guidance, not control.
Creating a Foundation for Agile
The foundation of agile is the Agile Manifesto which was created to serve as a better way of software development. The core concept of agile is best described by the 4 values of agile. But to help make agile even clearer, the Agile Manifesto also includes 12 principles aimed at further supporting these values.
The 12 principles of agile are:
Customer satisfaction through early and continuous delivery
Accommodate changing requirements throughout the development process
Frequent delivery of working software
Enable collaboration between the stakeholders and developers throughout the project
Support, trust, and motivate the people involved
Enable face-to-face interactions
Working developments are the primary measure of progress
Agile processes should support a consistent development pace
Attention to technical detail and design enhances agility
Simplicity
Self-organizing teams encourage great architectures, requirements, and designs
Regular reflections on how to become more effective
Source: agilealliance.org, Agile 101 – 12 Principles Behind the Agile Manifesto
Key Considerations Before Adopting Agile
The values and principles of agile help to demonstrate a state of mind that managers should have. They must be adaptable, accommodating, collaborative, and customer driven. If a manager or team does not embody these ideals, simply placing them in an agile framework is likely to merit little success.
Now you might be asking yourself, is that it? I only need to have an agile mindset. Well, simply put, no.
Having the right mindset and a desire to implement agile methodologies are not the only things you need to be successful. Usually agile works best in projects or processes which resemble those of software development. These are when problems are complex, solutions unknown, and the scope of the project can't be clearly defined. Tasks can be broken into smaller, systematic tasks, and the customer can be involved in the process. Cross-functional collaboration is beneficial if not required. Some further considerations are: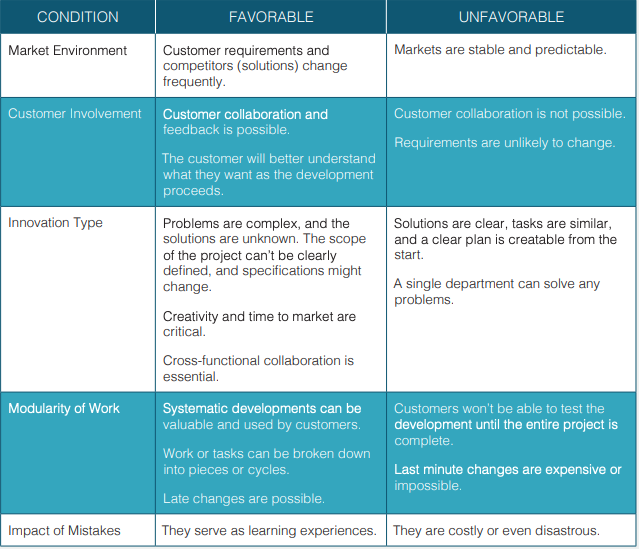 When teams, managers, and organizations ask the question, is agile right for us, they must also look within. A team might have a manager who is eager to implement agile and who has the right mindset. Their business area or project might even tick all of the boxes when considering the "favorable" conditions above, but they can still fail.
One key reason for this failure could be not having favorable internal conditions. These can include company-wide practices or policies which hinder or altogether eliminate the ability to use agile principles. It could also be that the manager cannot find or does not have employees who believe in the process and are motivated to change or even interference from the C-suit or other managers.
The Importance of Knowing When to Say No
It seems that everyone is looking to be agile, but agile is not a universal answer. It is important, to be honest with yourself about your needs and the organization structure and practices. Sometimes it is best to say no to agile and yes to another methodology.
This could be lean or even a traditional waterfall structure. This can be difficult to do. But just because you don't fully adopt agile doesn't mean that you can't still learn, adapt, or embody the values which do fit.
Get a complete introduction into Agile - Download our Agile eBook by clicking the image below:
Are you interested in agile? Want to learn more? Go and explore our fantastic blog articles about:
5 truly effective reasons to adopt and implement agile
What is Agile in IT and how to get into the right mindset
Placing internal customers in the center – Agile tools support the growth of leading Nordic pet retailer