The hands-on software development leader of 15 years, Topias Marttila, was recently appointed Efecte's Chief Technology Officer, member of the leadership team and head of the newly formed Technology Unit.
Here he outlines how Efecte's new organization contributes to customer success and why it is important.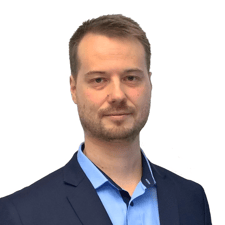 Ultimately Efecte - like all companies - must work for the best of its customers. In my new role I am in charge of Efecte's new Technology Unit, responsible for R&D, cloud DevOps, Quality Assurance and Technology Strategy. With the reorganization Efecte aims to further excel and delight our customers as an agile DevOps organization.
We have always believed in building a strong platform. The solutions must be flexible enough to be adapted to customers' specific needs, while at the same time being reconfigurable "on the fly" to adapt to emerging requirements. Flexible configurations and the resultant short projects give Efecte's solutions a better Total Cost of Ownership than many others.
Being truly customer-driven requires being out there and listening to users, and this is what I intend to do as head of our Technology Unit. It is the only way we can create a compelling product and roadmap. As a software company, the beauty of our product development is that the solutions developed are never targeted to a single customer. Instead, every customer organization benefits from new development, even if they are not directly involved in the design collaboration.
All in all, customer success is a journey, not an end station. When our solutions grow and transform along with customers' needs, we are always better able to support their success.
Long tradition and strong culture meet early adoption
I have strong faith in Efecte's personnel. R&D employee churn is minimal, with multiple developers having stayed with us for more than 10 years. This, combined with the supportive and collaborative working culture, makes Efecte a good growth environment also for developers in the early stages of their careers.
Our technology strategy relies on these traits and a practical problem-solving attitude - both in the ways that we work and when developing solutions for customers. For example, Efecte adopted agile methods as early as 2005, which allowed us to learn and adapt to our customers' needs at a faster pace. More recently, Docker, that is a new way of delivering cloud services, proved to be the winning horse for Efecte, and for many others after us.
Bold, yet smart decisions at the right time are what we are good at and keep us nimble.
Plan for the future: staying a leader
As a Nordic vendor at heart, Efecte places great emphasis on user experience, security and reliability. Today there is, for example, a lot of talk around GDPR. Efecte's inclusive approach to the cloud allows customers the power of choice between a public or private cloud model, depending on compliance requirements. Regardless of the customer's preference, Efecte will provide full maintenance services, ensuring that customers can concentrate on their own business success.
My role and the new organization structure will further emphasize the importance of automation and quality in Efecte's DevOps practices, all the way from onboarding and testing through updates and management. This will enable us to produce higher quality in a shorter time to service. The technology landscape moves extremely fast in DevOps and we believe that the integrated development and delivery model is the best way to keep us flexible also in the future - to be able to best contribute to our customers' success.
Are you a developer looking for a next step in your career? Our agile crew is looking for new colleagues for our office in Espoo. See the open positions below.
You can learn more about our solutions here.