Nowadays it's trendy to talk about how IT departments need to come closer to business, talk in business language and grow their business know-how. Information technology has also long been considered an enabler for business. However, in more and more industries, technology has become an essential part of the added value and services that are offered to customers – part of the business itself. In practice, information technology pays most of our salaries, nowadays. In our increasingly digital world, therefore, every marketing, financial, HR and logistics executive should reciprocally want to understand and speak the language of IT.
The difference between the IT sector and other companies has narrowed and will be further narrowed. Few business areas will be successful in the future without data and tools, such as automation of processes, playing significant roles in their "engine rooms". Business representatives should be open-minded, curious and willing to ask about technology's opportunities. They should also not be afraid to peek under the hood, when needed. Wouldn't we otherwise just be like those consumers of the 19th century who (at least supposedly) Henry Ford said only would want faster horses!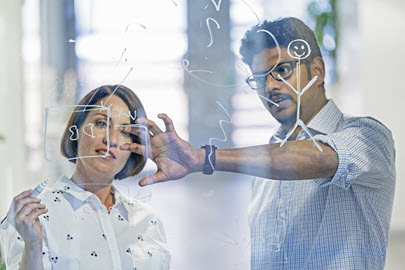 The online shop of the year was born through agile collaboration between business and IT
At its best, modern business and service development is a viable dialogue between business and IT. The dated model of "Business Owns and IT Supports" should be replaced with a setup where the challenges of the customer interface and back-office are solved together. This, however, is very difficult unless the parties share a common language.
Finnish alcohol retailer Alko's online store was selected in the Finnish Digital Leaders survey as the e-commerce solution of 2017. The development of the online store was also elected Finnish IT project of year 2017. E-commerce development brought Alko's logistics, customer service, communications and IT functions to the same table. One project, one project team and common priorities, goals and metrics were keys to success. Today, IT and business collaborate so closely that they can even stand in for each other.
Alko's e-commerce project utilized best practices from both business and IT. Of the general IT policies, the company used for the first time a sprint-based, agile implementation model. Uncompromising practices, such as every-day IT status and common documentation and reporting tools, enabled rapid repairs and changes jointly carried out by business and IT. On the other hand, business functions provided clear, common strategic guidelines for projects, purpose for the entity and a vision to aim for. Both business and IT played very important roles in maintaining internal motivation and engaging the whole organization in a completely new business.
Agilely overcoming language barriers towards world-class services
Agility in business and IT cooperation does thus not mean that structures and planning are thrown into the trash. On the contrary, common direction, stable structures and processes are preconditions for an agile organization. To counteract the structures, dynamism such as team self-guidance and entrepreneurial attitude of every employee can be embraced from the world of IT and startups.
The opposite of agility is, at worst, chaos where all flowers get to flourish and IT-illiterate businesses buy point solutions from the cheapest source. Few years ago, still, various cloud service providers painted a picture for business executives of "skip over IT in procurement". This was supposedly slick and clever, as everyone can find the most appropriate solutions without having to bother with IT's heavy processes. However, the bill was often paid by the end-users of the solutions that got dropped into a jungle of logins, user interfaces, and applications.
At best, agile development based on a common vision and stable structures delivers the company's customers – both internal and external – such brilliant services that they are no longer even noticeable. Prerequisites for an agile service organization are, in turn, like in Alko's example, common and stable processes and tools, and the ability to sit at the same table without language barriers.
This is how excellent customer experiences are created.
---
At Alko, the Efecte service management solution supports common operating models and service processes in e-commerce, customer service, logistics, money handling, IT and in the future also in HR service management. Uniform ways to make service requests and track their progress simplify the lives of both customers and the producers of services.
Henriikka Åkerman, CMO, Efecte Oyj
Henriikka works as Chief Marketing Officer at Efecte, responsible for the company's messages and their efficient communications to the international market. She has many years of experience in digital businesses from marketing, partnerships and business. Henriikka wants to deliver the joyful message of digitalization in plain language to all target audiences.
Paula Kujansivu, EVP (Online and Supply Chain), Alko Oy
Paula is responsible for Alko's e-commerce business and digital services, the customer service center and supply chain. She has extensive experience in cross-organizational changes at both strategic and operative levels. Paula strongly believes in processes and structures, as well as in the opportunities offered by technology, emphasizing that the success factors of change are people.
Read a customer success case that outlines Alko's use of Efecte solution in more detail.