It seems like every week there is an announcement about a new technology, phone or software update. This raises one key question, when was the last time you took a look at your business processes and the way your company manages its daily operations?
Why is it so often that the processes put in place to help employees work more efficiently and complete some of the most common tasks rarely receive a second look, unless there is a major problem. Every department of every company is bound to be interested in reviewing performance levels, developing their process, services, and operations to improve employee satisfaction and reduce costs. And yet the needed review and development continues to be neglected, causing inefficiencies and feelings of frustration within the organization.
In many of these cases when a process is complicated, insufficient or missing-all-together, employees will get frustrated and might take matters into their own hands, creating individual processes. These individual processes can lead to great developments but also difficulties in reviewing or reporting what is going on. Vital information can find its way into hundreds of excel files, emails, notes and other places; causing a risk to the company's daily operations, security and an inability to meet common regulations such as GDPR. It also means you are missing out on all of the analytics which can be used to help develop your business.
It's easy to say this doesn't apply to my company, our processes and the way we work are perfect and complete. But try to take a step back and look at the way you work as an outsider. When you do this there is one key question you should ask yourself:
Are our processes and way of working as efficient as possible, with clear responsibilities and a system in place for review and development?
If the answer to this question is not a resounding "yes", then we have some more questions for you:
How many different processes does your organization uses in a daily or weekly basis?

What are your main business processes?
What processes are required to support these?
Are these processes clear to employees, partners, subcontractors?
How many manual or time-consuming parts are there?
How visible are processes between teams, departments and organizations?

How well are your processes documented?
Who has access to these processes?
Where are the bottlenecks?
Are there clear obstacles?
Are your processes developments data driven?

What records do you keep?
Can you receive notifications based on service levels?
Can you analyze the impact of a change, update or modification to your processes?
How easy is it for employees to communicate and collaborate within the company?

How do your employees handle cases?
Is this based on a company process?
How clear and complete are your communication channels?
How user friendly are the tools used in your processes?

Can you easily create or edit views by groups?
Can you review information in lists, graphs or calendars to get a clear picture?
Can users customize their views to only see the information relevant to them?
Can you automate repetitive actions?

Do repetitive requests require manual action?
How are users notified of approval requests and acceptances?
How do your current processes affect your customers?

Are your processes slowing down employees?
Does this affect your ability to easily meet SLA's?
Maybe you never thought to ask these questions, or you might have already known all of this, and knew that something has to change, but aren't even sure what your company really needs, or where to start. You know, how you work, the equipment you need and the skills your employees have. You know your process and tools for handling all of this information aren't working but, where do you start, what solution could meet your needs and how easily can they be deployed and developed?
Efecte has over 20 years of experience helping public and private organizations in different fields design systems to improve the way they work; allowing them to work more efficiently and focus on their core business. Our Edge solution can help improve your business processes by creating standard forms for requests and more, simplifying the approval process and providing a system to better manage, update and react to changing information.
A simple case to help demonstrates how easy a process can become with our Edge solution would be to look at how an approval process can be improved. Typically, approval processes involve emails, forms and confusion about who is responsible. With Edge you can use our self-service portal as a central location for employees to make all of their requests. These requests will be automatically sent to the correct manager and notify them of a new request. Once the manager has approved or rejected the request, the employee will receive a notification. This whole process can be tracked and reviewed within our service management tool; creating better transparency surrounding the number of requests, processing times, requestees, approvers and more.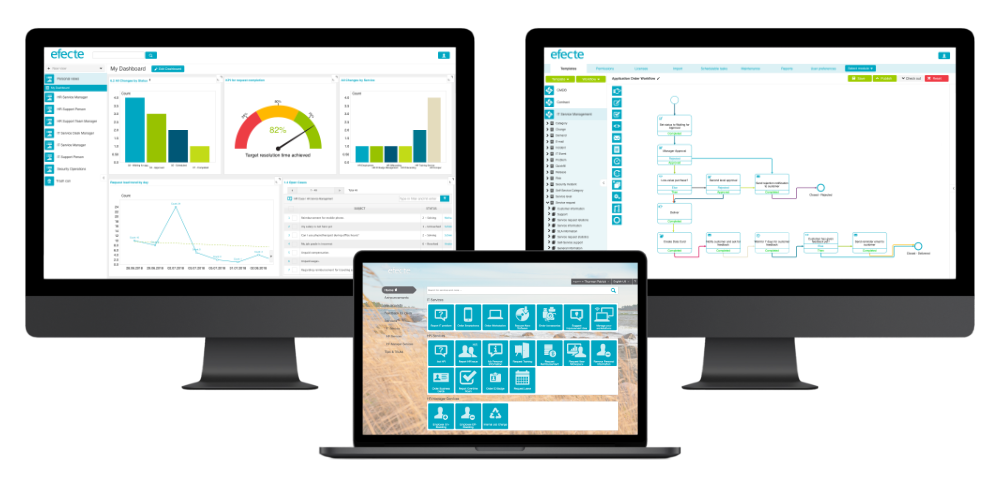 By combining our years of experience with a number of common processes, like the one above, we have created solutions for different departments within any organization. But this is only the starting point, our solution is able to be adapted to work with your business. We have built all of our solutions so your current and future processes, can be created and developed, internally or with the help of one of our consultants.
If you want to learn how Efecte's Edge solution can be used to simplify your business, allowing you to focus on what is important, please contact us and we would be happy to discuss it with you. If you want to see some of the companies we have helped and the solutions we already have solution for, have a look around our website.
We hope to hear from you!