Great place to work = great people!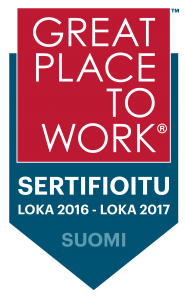 We at Efecte believe that a good place to work is everybody's business, and that a continuous development and cooperation is the only way to success. Our employees have made Efecte's growth and success possible, and we want to create such operating conditions which will ensure this also in the future. In this development work, we have used the staff opinion survey of Great Place to Work as a tool for three years in a row now. We were very happy to receive the news that Efecte has been granted the Great Place to Work® certification thanks to its good survey results.
The certification – which has only recently been introduced in Finland but well-known in most of the countries – is granted to workplaces, that have met the certification criteria in the Best Workplaces in Finland 2017 research process: the total result of Trust Index survey and the result according to background variables of gender and position must be at least 70 %. Efecte's total result of Trust Index survey in 2017 was 77 percent.
As a national standard serves the survey Suomalaisen työelämän tila (state of Finnish working life) 2016, in which the comparable result of companies was on average 50 %. It feels great to receive also formal recognition for our long-term and persistent development work.
We listen to the voice of our staff – and act inspired by it
The certificate is a fine recognition for companies in which a lot of things have already been considered and done to achieve a better work place. Even though it's great to achieve this kind of visible recognition for the development work done, I see the Great Place to Work survey primarily as a useful tool for making the procedures and management practices visible as well as an enabler of the continuous development work. Particularly, the first year's survey was eye-opening and brought new insights to the ways our employees experience the adequacy, functionality and fairness of our practices.
During these three years we have taken part in the survey, we have received from our staff a comprehensive assessment of Efecte's culture, working climate and job satisfaction. From each survey result, we have especially put under the microscope especially 3-5 areas praised as best and 3-5 areas in greatest need of development.
Sometimes the desired changes require only some adjustments, concrete changes in the everyday doing. Based on the survey results, we have improved the cooperation and communication between the units and trimmed our internal operations to create a well functioning value chain. Customer centricity is embedded in one of our values, and we want it to show not only in the customer interface but also in our internal doing.
The growth has also drawn attention to natural development areas in our operations. For a couple of years now, it has become apparent in the survey that our premises are an area in which improvement is desired. Now we are able show progress also in this aspect, as we will move to more functional premises in June. The current premises consist mostly of open plan offices, but the new office has more versatile layout which enables working even more smoothly as before.
Flexibility and joy to the work – Efecte way
We want to further develop Efecte's culture into something which enables us to succeed and still preserve our well-being. Lately, there has been a lot of discussion about remote working in the media, and not all has been positive. I believe that in a knowledge-intensive work various ways of working are needed in order to ensure optimum results. Trust plays here a key role. At Efecte, all employees have the possibility to remote work, and almost 90 % of our employees make use of this possibility depending on their team and their situation in life. In my view, it's a huge advantage that everyone can concentrate on their work and achieve results at home, at a café or anywhere where they can be most effective and creative.
Of course, sometimes you have to also relax a bit and find time for meeting colleagues. About once a month, we gather to have a Monday lunch together or have a pizza Friday which means that Efecte provides food, drinks and snacks for all the employees at the office. A special advantage in these occasions is that you get to meet also the colleagues you don't normally meet so often.
Ergonomics is guaranteed through regular workplace visits by an occupational physiotherapist, and everybody has the change to get the ergonomics of their workstation checked and adjusted to be as functional as possible. We have also wanted to emphasize the importance of pauses, and for that we got useful tips from last year's training about Mind Management by Filosofian Akatemia: 6 P:s, loosely translated to Rest, Play, Exercise, Nature, Food and Presence are good ways to regain your energy during working days in a way that best suits you.
Efecte has offered sports- and culture vouchers to its employees already for years. Also, Efecte's own floorball team practices once a week and takes part in the floorball league for enterprises. Everybody can also play beach volley during our reserved turns.
Naturally, the content and meaning of the work play a significant role in job satisfaction. When employees knows what they are doing and why, clarity and target orientation come naturally. That's why we conduct development discussions quarterly.
We want to support the continuous development of our staff by trying something new, and in 2016 we introduced the Training Day practice which enables employees to use one day in a month for personal development. The day can be spent on reading, webinars, training courses or for example on finishing a diploma work. Anything that makes the employees to stop and think about their own skills and competencies and to consider the direction they would like and need to develop those. These moments of reflecting are needed more often than once a year in the context of filling out the staff opinion survey.